Une nouvelle installation extérieure vient d'élire domicile dans le triangle Ruth Wittenberg de Greenwich Village, à l'intersection de Greenwich Avenue, de l'Avenue of the Americas et de Christopher Street — et il vous serait très difficile de la manquer.
"Faces of the Wild" présente neuf sculptures de six pieds de haut représentant des animaux en danger critique d'extinction. Les monuments sont basés sur les nombreuses photographies et croquis que les artistes derrière les œuvres ont pris de la faune au cours des 15 dernières années.
Les animaux représentés comprennent le rhinocéros blanc du nord, le chimpanzé, l'addax, le gorille des plaines de l'ouest, l'ours polaire, le loup rouge, l'éléphant de forêt d'Afrique, l'hippopotame et le lion. "Ces animaux viennent du monde entier, des savanes africaines aux forêts tropicales d'Indonésie", lit-on dans un communiqué de presse officiel sur l'installation. "Ils sont tous beaux, immédiatement reconnaissables, mais ont désespérément besoin d'aide."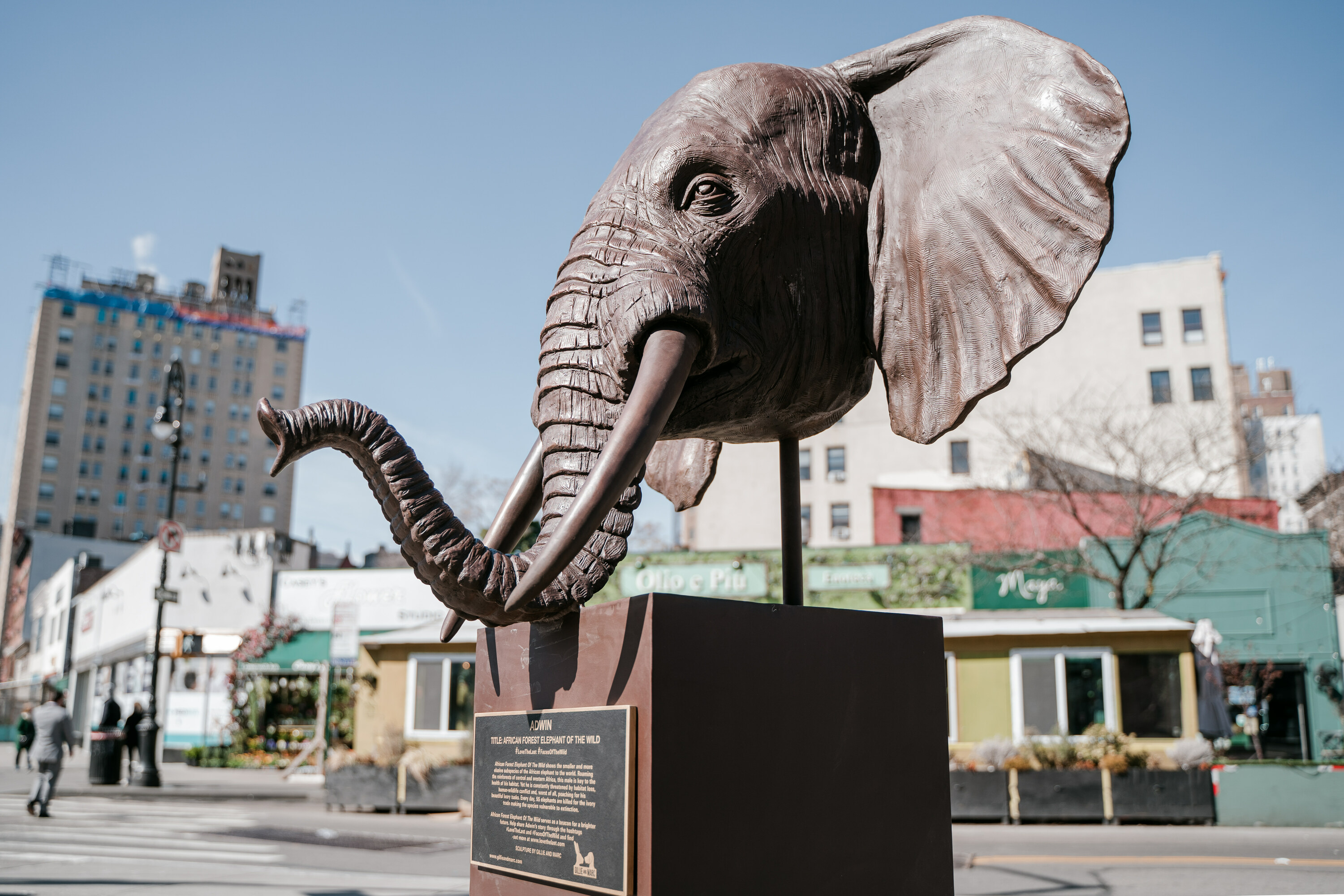 L'exposition est le dernier volet de la série "Love the Last" d'artistes internationaux, de défenseurs de l'environnement et du duo mari et femme Gillie et Marc Schattner. Le projet plus vaste vise à mettre les citadins face à face avec des animaux menacés afin de créer un lien entre les deux parties. Un simple regard sur les sculptures géantes au milieu du centre-ville de Manhattan rend l'objectif du spectacle très clair.
"Parce que le public ne voit pas ces animaux dans sa vie de tous les jours, il se peut qu'il ne réalise pas à quel point ils sont en danger", lit-on dans le communiqué officiel. "Cette exposition change cela. Les animaux ont été introduits dans la jungle urbaine, dans la vie du public d'une toute nouvelle manière. Et une fois qu'ils peuvent les voir sous cet éclairage, une partie de leur propre maison, alors un lien peut être formé. "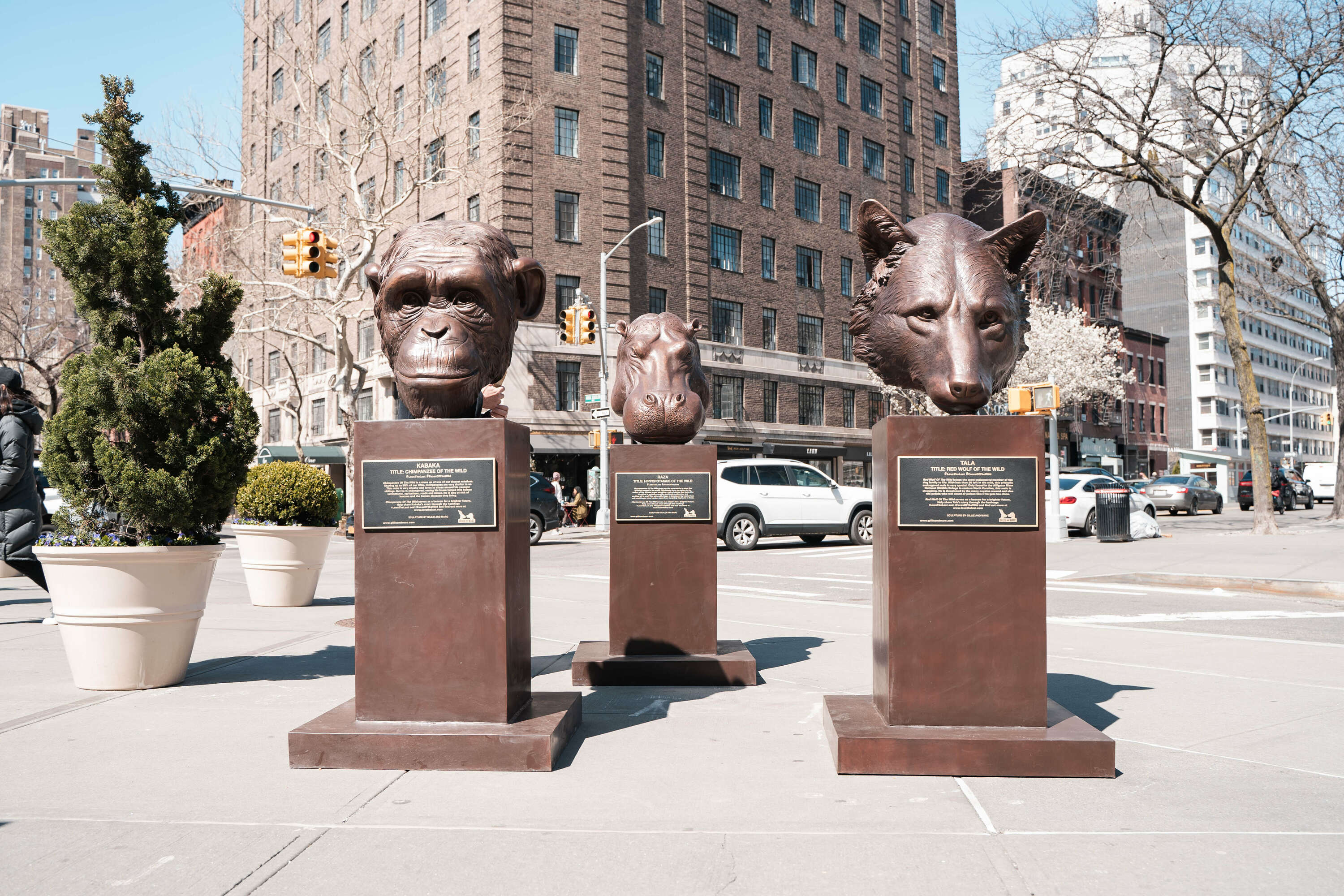 Pour approfondir les effets de l'exposition, les organisateurs y ont ajouté un volet interactif. Chaque sculpture comporte un code QR individuel à côté que les visiteurs peuvent scanner pour atterrir sur une page contenant des informations sur chaque animal, les efforts généraux de conservation et la possibilité de faire un don au World Wildlife Fund, le partenaire caritatif des artistes.
Ce n'est pas la première fois que le travail des Schattner est exposé aux New-Yorkais. En 2018, la statue désormais emblématique de trois rhinocéros a pris le contrôle d'Astor Place et, en 2020, l'énorme gorille King Nyani a été installé à Hudson Yards (jusqu'à trois personnes ont pu s'asseoir dans sa main à la fois !). Clairement, le couple est dévoué à la cause.
« Faces of the Wild » sera exposé pendant quatre mois.
Vous aimez faire des choses dans votre ville ? Dites-nous tout à ce sujet dans notre rapport annuel, mondial, Enquête sur l'indice de temps mort.